Today was day two of the Big Ten Football Media Days in Chicago. Representing Penn State along with James Franklin are running back Bill Belton, kicker Sam Ficken, and linebacker Mike Hull. The players met with the media today. Here are some nuggets from their meetings with the meeting.

There was some talk of Sam Ficken possibly doing the place kicking and punting this season. However, Ficken said he does not expect to punt at all. And no, it's not like the bill O'Brien days when he just basically said screw punting. So it looks like Chris Gulla will handle the punting duties.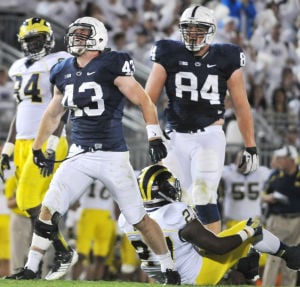 Linebacker Mike Hull had some interesting comments. He said when the sanctions were levied in 2012 and players were allowed to leave he had made up his mind and was going to go. Hull said he was prepared to tell BOB he was leaving. Then the night before he talked about it with his roommates, slept on it, and woke up the next morning realizing that leaving would be a huge mistake. Thankfully. Hull also said that Penn State's defense this year will be more aggressive and feature a more blitzing, attack oriented style. Thank God. This has been missing from the Penn State defense for a long time, and I am very glad to see it is changing.

James Franklin also spoke today. He informed us that offensive coordinator John Donovan and defensive coordinator Bob Shoop will coach from the box. Meanwhile, special teams coordinator Charles Huff will be on the field at all times. This is welcoming news on Coach Huff. Special teams has been a major deficiency for Penn State for many years now, and has cost the Nittany Lions countless games. It appears Coach Franklin is putting an emphasis on improving the special teams.

It was also announced today by Vegas that the Nittany Lions have opened up as a 1 point favorite against UCF for the season opener August 30th. Only 32 more days until Nittany Lion Football, and the Coach Franklin Era truly begins. I can not wait. WE ARE…..