Today the Nittany Lions started off the James Franklin Era with a thrilling 26-24 victory over UCF. Penn State was the better team from start to finish today. Penn State piled up 511 yards of total offense, as opposed to just 246 for Central Florida. This is a game Penn State should have won easily, and it certainly should not have taken a Sam Ficken field goal as the clock expired to win.
The Nittany Lions showed me a lot today though. Central Florida is a very good team. They went 12-1 and won the Fiesta Bowl a year ago, and returned much of that team. Even with the loss of Blake Bortles, they showed they still have a fine young QB in Justin Colman who nearly rallied the Golden Knights to victory in the second half. This was a game I felt was a real coin flip on who would win, not only did the Nittany Lions win they dominated the game. The scoreboard does not reflect this, but anyone who watched the game will tell you that. They stifled the UCF offense all game outside of a few drives, and Christian Hackenberg threw the ball all over a very good UCF secondary. Maybe most impressive was the resiliency they showed. However, there are still a lot of aspects of their game that the Nittany Lions need to clean up.
The Good:

Christian Hackenberg
Yes, Hack threw two interceptions today and tried to force a few ill-advised throws. But he put his team on his back when they needed him to. Especially on the final drive when he marched the team down the field in just one minute and thirteen seconds to get them into field goal range for Sam Ficken. Speaking of that final drive, this is what Coach Franklin had to say about it after the game: "There was only a minute or so left in the game, and I looked across the sideline and there wasn't doubt in anybody's eye. Everybody believed. They believed in Hack. They believed in Ficken," Franklin said. Today Hack threw for a school record 454 yards, while completing 32 of 47 passes. He also threw a 79 yard touchdown pass to Geno Lewis. Hack's decision making needs to be better and he can't keep trying to force throws into traffic like he did at times today. Outside of that though, Hack was marvelous. Especially considering he did it behind an offensive line that did not give him a lot of time to throw. The Nittany Lions have one of the best quarterbacks in the country, we just need to sit back and enjoy watching him play every week.
Geno Lewis/DaeSean Hamilton
One thing Penn State must do this season is find WRs to replace Allen Robinson's production, well Lewis and Hamilton stepped up big time today. Lewis caught 8 passes for 173 yards and a TD, while Hamilton, in his first career collegiate game, caught 11 passes for 165 yards. It was obvious early that Hamilton was Hack's go to target. Hamilton would have played significant reps last year if not for a wrist injury that cost him his season, and I have said multiple times that he is a breakout player to watch this year and today he showed why. As for Lewis, this may have been expected from some if not many PSU fans. Lewis was the lone returning WR with experience, and today he did a good job of stepping up when his team needed him most. Don't forget the great catch he had in the 4th quarter on a ball that was tipped up in the air that set up one of the Nittany Lions' field goals. That was a heck of a catch.
The Defensive Line
Penn State's defensive line is deep and talented, and it showed today. UCF was held to just 24 rushing yards, and a big reason why is the way Penn State's defensive line dominated the line of scrimmage. Deion Barnes routinely pressured UCF's quarterbacks, Anthony Zettel had 5 TFL, Austin Johnson had a strong game, and Brad Bars made some plays as well. The defensive line also accounted for 4 sacks today. If their strong play continues as the season goes on, the Nittany Lions will have a much better defense than last year.
Jordan Lucas
The Nittany Lions need Lucas to be a shutdown corner this year, and he looked like it today. He broke up two passes, flew all over the field, and I do not remember a single pass being completed on him while in man coverage. Lucas looked like the preseason All-Big Ten performer he was dubbed before the season today. If Lucas' stellar play continues, the Nittany Lions will have a solid secondary this year.
The Entire Defense
This defense today looked like a complete 180 from last season. The defensive line controlled the line of scrimmage, the secondary did not look out place and were not burnt for one massive gain after another, the linebackers flew around and made plays. They looked like a Penn State defense. They held UCF to just 246 yards of total offense, and just 35 yards in the first half. They also came up big time and time again. Three times UCF had drives start in Penn State territory, and the defense held them to just 3 points on those drives. Also, when Hack threw his second interception the very next play UCF fumbled and Anthony Zettel recovered. That is a defense answering the bell and bailing their offense out. Yes, UCF's offense looked totally incompetent in the first half with Pete DiNovo under center but what they did was still impressive. Plus, once Justin Colman entered the game in the second half UCF's offense really started to click for a few drives. However, the defense was able to adjust and still get stops when they needed to. The only real negatives I can think of on defense were Da'Quan Davis looking horrible in coverage, and a few missed tackles. Otherwise, the defense was outstanding.

Sam Ficken
Last, but certainly not least, Kickin' Sam Ficken. Today's hero. How could you not feel great for Ficken today? He was 2/2 on extra points, and 4/4 on field goals. Including nailing a 36 yarder as the clock expired to seal the victory. Sam Ficken has been through a lot during his PSU career, but he has worked his tail off and sure as hell deserved to have a day like this.

The Not So Good

Penalties
Penn State committed 9 penalties worth 90 yards today, and those penalties are a big reason why they could not put UCF away as they should have. Three of these penalties were 15 yard penalties, two of which extended UCF drives. There was also a costly holding on Da'Quan Davis, who is lucky to not be on the not so good list between that and his play in the secondary, that negated a kick off return into UCF territory and an offensive pass interference call on Chris Godwin that took away a first and goal. Penn State must clean up the penalties moving forward, they were lucky that the penalties were not more costly than they were today.

Turnovers
Penn State turned the ball over 3 times today. A pair of Hack interceptions on passes he tried to force into coverage, they also lost a fumble today. Even though these turnovers only led to 7 UCF points, they still killed drives with two of the turnovers coming in UCF territory. The turnovers may have been a 14 or 20 point swing in this game, and helped contribute to PSU not putting them away. They led to 7 points for UCF, and cost PSU at least 6. 32-17 looks a lot nicer than 26-24, and it wouldn't have been so stressful over the final 1:13 seconds either.

Offensive Line/Rushing Game
The offensive line is young and inexperienced, and it showed today. Hack was constantly running for his life on pass plays, and the Nittany Lions never were able to get the rushing attack going. In total the Nittany Lions ran for just 57 yards today, and averaged just 2 yards per carry. Shoot, at halftime their leading rusher was Hack! This HAS to improve. Even though I do not think Penn State's offensive line will become one of the better ones in the Big Ten or anything, I do expect it to steadily improve each week as players get more experience and begin to gel together more. It should also be noted that UCF has a great front 7, and is one of the best defenses Penn State will see all year. That is why I am concerned after one game, but that's it just concerned. Now say they come out next week against Akron and Hack is running for his life and they can't run, then I'll REALLY be worried.
This was very good win for the Nittany Lions for a lot of reasons. First off, it is very good to start the Coach Franklin Era with a win. Secondly, they dominated this game and easily could have and quite honestly should have won comfortably. However, they did a good job of not letting this game get away and still finding a way to win. This team showed a lot of resiliency and fight today, which should be no surprise after everything these young men have been through during their time in Happy Valley. Finally, UCF is a very good team. This was one of 6 games (along with Indiana, Michigan, Michigan State, Ohio State, and Maryland) I identified as games that would give the Nittany Lions fits this season. There is zero reason they shouldn't win their other 6 games. So it is nice to be 1-0 so far in their 6 toughest games. 8 wins would be awesome this season, today was a big step toward 8 wins. One final thing, how about this quote from Coach Franklin? "We're going to be partying all the way back to the United States." Coach, you and your players deserve it.
Other Notes
-Today Zach Zwinak became the 18th player in school history to top 2,000 career rushing yards. Congratulations, Zach.
- Christian Hackenberg's 454 passing yards was not just a career high, but also broke Zach Mills' single game record set back in 2001. If I was a betting man, I'd say Hack breaks his own record at some point.
- Four true freshman saw reps today. WRs Chris Godwin and Saeed Blacknall, defensive back Grant Haley, and tight end Mike Gesicki. Godwin caught two passes for 13 yards, Gesicki caught one pas for 9 yards, and Haley looked very good returning kicks as he averaged 29.5 yards per return.
- DaeSean Hamilton's 165 receiving yards was a new Penn State single game freshman record. The previous record was 125 yards by Deion Butler against Wisconsin in 2005.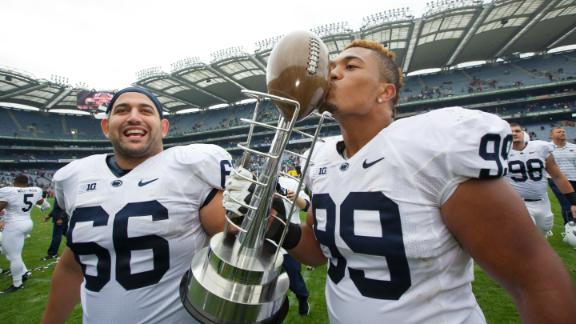 Angelo Mangiro (66) and Austin Johnson with the Dan Rooney Trophy presented to PSU for winning the Croke Park Classic.
- Next week's game is at noon against Akron at home. The game can be seen on ABC and ESPN3.com. Akron is one of the 10 or 15 worst programs in the FBS, and Penn State should easily win by 25-30. If not more.