Before delving into this everyone do yourselves a favor: take a deep breathe, realize Penn State is still 4-1, they will go bowling for the first time since 2011, and take a step back from the ledge. Saturday was ugly. Very, very ugly. The Nittany Lions were embarrassed on homecoming Saturday against Northwestern by a score of 29-6. This was the Nittany Lions' worst ever loss on homecoming, and worst home loss since 2001.
Penn State's biggest problem this year has been the offense. Penn State ranks in the top 12 nationally in scoring, rushing, and total defense. The Nittany Lions' defense is not the Swiss cheese it was a year ago. However, the offense has regressed. Largely due to the terrible play of the offensive line.
This year Penn State ranks 100th nationally in points per game (22.8), 115th nationally in rushing yards per game (101). The passing attack, despite a bad game from Christian Hackenberg this past weekend, still ranks 25th nationally, and first in the Big Ten, in yards per game (306.8).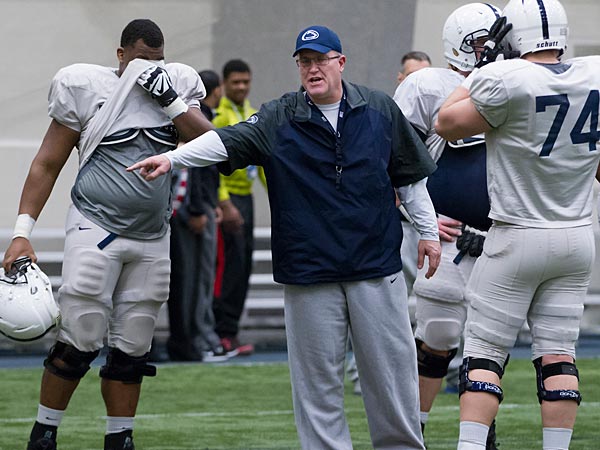 OL Coach Herb Hand has his work cut out for him.
The offensive line must improve, and the improved play must start in Penn State's next game which is against Michigan on October 11th. Penn State has allowed 14 sacks so far this year, the most in the Big Ten. They also rank last in the Big Ten in rushing yards. Penn State has talent at running back. Zach Zwinak is coming off back-to-back 1,000 yard seasons, Bill Belton is a dynamic play maker, and Akeel Lynch has more upside than Zwinak and Belton. I have trouble faulting the running backs for the failure of the running game.
All season long Penn State has had no running lanes whatsoever. Hackenberg has also constantly been under pressure, as evident by the 14 times he has been sacked. Up front redshirt junior left tackle Donovan Smith has played very well. Outside of Smith however, the offensive line has not had much success. Center Angelo Mangiro has shown flashes of good play, but his shot gun snaps have been bad all season. They tend to resemble dead ducks as they head toward Christian Hackenberg and get there slowly, something you can not afford when you have an OL that can't pass protect. Left guard Brendan Mahon has improved each week and is showing flashes of why he was one of the top OL recruits in the country in 2013, but he also needs to continue to get better each week. The right side of the offensive line has really been troublesome. Both Brian Gaia and Derek Dowrey have been bad at right guard, and Andrew Nelson has had struggles at right tackle.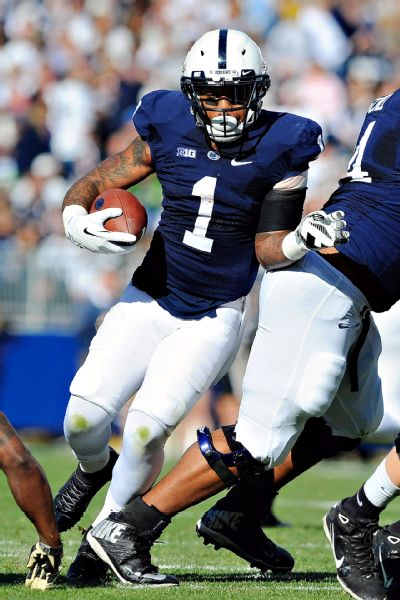 Belton and the RBs have had no room to run this year.
The big problem is Penn State really has no other options on the offensive line. Coming into the year many people, myself included, predicted Penn State's offensive line would be bad. However, I don't think any of us expected it to be this bad. With Miles Deffienbach out with injury, Donovan Smith was the only returning starter and it has shown. Deffienbach could be back in the next few weeks, and that should provide a huge boost to the OL as it would shift Brendan Mahon to right guard and get Brian Gaia and Derek Dowrey off the field. The sanctions have hit the offensive line hard. Gaia and Dowrey were defensive linemen until this past offseason, but were shifted to offensive line due to lack of depth. The depth problem got even worse when Deffienbach got hurt in the spring.
Penn State's offensive line will improve, it just has too. Brendan Mahon has all kinds of talent, Andrew Nelson has a high ceiling too. The addition of Deffienbach, which could come as soon as the Maryland game, will also be a big boost. Not just on the field, but also mentally as he is one of the senior team leaders. As I said above, the sanctions hit the OL hard and it is showing. However, Penn State has some very solid offensive linemen committed in the 2015 class highlighted by the state's top recruit Sterling Jenkins. These young men could easily step in and play right away next fall, but that does not help the here and now. The point is, don't pile on Coach Franklin and his staff too much for poor offensive line play this season. There is not a whole lot of talent there, and there are two guys playing out of position. It will get better this year, it just simply has to, and will really improve in coming years.
There are ways to work around poor offensive line play however, and we have seen some of that from offensive coordinator John Donovan this season. Penn State needs to just about scrap draw plays, RB screens, and stretch runs that all take time to develop. Penn State's offensive line simply is not good enough to allow these plays to work. Donovan has done a better job of not calling these plays as much the past few games as he did early on, but he has still been stubborn with them at times. I do understand is line of thinking though, as you must be as balanced as possible on offense in order to win football games.
On offense Penn State needs to go with runs in between the tackles on which they just hand it off immediately and try and get yards. These have been the runs they have had the most success with this season. Cutting out on the penalties would also help, as Belton has had a few big runs called back this season due to holding penalties. Another thing that has led to huge success this year is something we saw a lot of in the second half of the Rutgers game, quick passes and screens to WRs. Those quick slants, out routes, hitches, and screens willed the Nittany Lions to a come from behind victory over the Scarlet Knights in their conference opener. They are plays that work to perfection when you have explosive WRs, which the Nittany Lions have, and also are great for teams with offensive lines that have protection problems. Penn State, obviously, also has that. I'd like to see Donovan call these more often on offense.
While the offensive line has been Penn State's biggest problem on offense, it is not the only one. The Nittany Lions have also not been good in the red zone. They have scored just 8 red zone touchdowns this season, which is tied with Northwestern for the least in the Big Ten. This must improve. I've pointed out multiple times this year that Penn State must stop settling for 3, or nothing, in the red zone and start getting 6. This hurt them Saturday, as their three red zone possessions resulted in two field goals and a blocked field goal. Had they scored touchdowns on even two of those drives, it would have been a completely different game.
Mental mistakes such as drops and penalties have also been killer. Penn State has had a lot of big plays called back due to holding and illegal block penalties this season. The WRs have also had a case of the drops at times this year, even the sure handed Geno Lewis had a killer drop on Saturday. They need to clean up the mental mistakes as well.
Penn State's defense is one of the best in the country, and they have a stud at quarterback in Christian Hackenberg. They also have three very talented running backs, and roll three deep at tight end. Furthermore, they have a very talented group of WRs led by Geno Lewis and DaeSean Hamilton. However, Penn State's offensive line is a mess. Their offensive is truly the one thing keeping Penn State from currently being 5-0, and from being a top 15-20 team this season.
Ohio State and Michigan State are the only remaining games on Penn State's schedule I'm chalking up as guarantee losses. The other 5 are all very winnable. Temple, Indiana, and Illinois are all games Penn State should win, and Michigan and Maryland are also very winnable. Especially the Michigan game even with it being in Ann Arbor. The Wolverines are an utter mess right now, much more of a mess than the Nittany Lions. There is no reason for Penn State to finish any worse than 7-5 this season, with 8-4 being a real possibility. Even 9-3 still wouldn't surprise me. It is extremely frustrating to watch this offense right now. But the offense must play better as they get into the teeth of conference play, and that all starts with the offensive line.